NEWS
Creative and Media. The Re-bundling Debate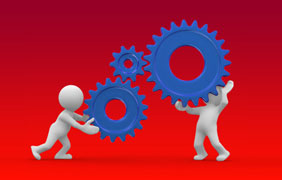 Jos Scharrer. MD. Scharrer Advertising. Jos founded Scharrer Advertising some 25 years ago after many years of being Creative Director first at VZ and then BBDO South Africa. She has worked in advertising in London and New York, and has won the New York Ad Festival Grand Prix for Radio, a couple of Loerie Grand Prix awards, Cannes and numerous others. Visit www.scharrer.co.za to see some recent work. Email: advertising@scharrer.co.za Facebook: Jos Scharrer. Twitter: joscharrer
I see that Advertising Age report on McCann hinting at bringing Media and Creative closer, thanks to a plea early in June by Brian Perkins, corporate VP at Johnson & Johnson. Seems that Nick Brien CEO of McCann Worldgroup, told the magazine in an email: "We must stop obsessing about individual companies and silo P&Ls and begin obsessing about collective genius and teamwork ingenuity. No individual or specialist business has all the answers, regardless of their pitch".
While there is a lot of caution about how this is to be done, this talk of possible reintegration is music to my ears, especially as one who grew up in the culture of full-service agencies. I recall always dropping into Roger Garlick's office to bounce an idea off him. "What if we took that whole Coty budget, run 8 consecutive pages in the top woman magazines – one off?" Great! And we did it. Within a couple of weeks the Coty President phoned us from New York to express his congratulations at the results.
Many times Roger would stop by with one of his brainwaves, and Erik du Plessis would pop in and pull up a chair to bounce a new theory. It was through all this synergy that some of the best ideas and magic developed, and the winner was the client.
However, over the last twenty years, this less tangible added value of intellectual property created by the pooling ideas, has been swept under the carpet, in favour of more tangible economic theories promoting the unbundled models.
Unbundling – the economic advantages
The trouble is the economic advantages of unbundling are easier to sell. Here's a quick summary:
Media costs escalate, and this rising cost can be separated from the basic agency revenue model, with the result advertisers would not complain about the agency earning more money on the back of increasing prices.
Independent media companies can focus their clout on getting bigger discounts.
Specialist media companies can talk more convincingly to the client about ROI.
The media company can pick up additional media-only clients and this unbundling would avoid many situations of possible conflict.
Finally, on the emotional level, the media guys were no longer the presenters of the boring facts and figures at the end of the great creative presentation – they are now glamour boys in their own right.
The advantages of getting back together
Where was the argument that when you tie together creative and media, you have a better chance of giving the client a campaign that will deliver at peak performance in both disciplines, with greater synergy and effectiveness. After all, media and creative are a bit like ebony and ivory. You can't have the one without the other.
Further, from a pure economic stance, bundling two organisations together would surely produce operational cost savings for both. But not much is said about that either!
I imagine from a client's point of view, the unbundling really didn't matter, as long as they were sold the idea that they were getting more bang for their buck.
The Great Re-bundling Debate
The good news is that the Great Re-Bundling Debate has started to gather momentum. And not a moment too soon. With so many channels and touch points, with digital marketing, social media and highly networked activities, it is even more important for the creatives, strategists, media planners and research boffins to work much closer together and on a continuous basis.
For years at Scharrer Advertising, we've kept our media accreditation, paying the bank the for those guarantees, because offering a full integrated service, pulling in the whole Dream Team, with Strategy, Media, Creative and Research, is what we believe works best. How do you put together an effective Creative Proposal without thinking about the media or channels in which it will appear?
Agency models of the future
The new agency models of the future won't be the same as they were 25 years ago, but they won't be these unbundled silos of today either. New communications technologies will demand closer integration and a greater collaboration of all marketing disciplines.
Take you on a bet!