NEWS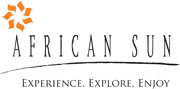 Scharrer SIGNS NEW CONTRACT WITH AFRICAN SUN
Scharrer Advertising won the African Sun hotel and resorts business in a competitive pitch two years ago, and have recently been signed up again on a new contract. The fastest growing leisure group in Africa – the Zimbabwean company manages or owns some 22 hotels and resorts across the continent with more in the pipeline.
"One of the perks of working with this dynamic company, is to have meetings within the sound of the Victoria Falls," says Director Glenn Scharrer. African Sun is a part owner of The Victoria Falls Hotel, and manages Elephant Hills Resort, The Kingdom at Victoria Falls and Hwange Safari Lodge. Just down the Zambezi on the Zambian side – they have just opened the luxury Royal Chundu Zambezi River Lodge set on the banks of the river with luxury exclusive island lodges.
Scharrer Advertising has been responsible for creating and building the brands of a number of their new hotels and resorts and renewing older brand images. These resorts are based in Nigeria, Ghana, Zambia, Botswana and Zimbabwe.
In South Africa African Sun owns The Grace in Rosebank and manages The Lakes Hotel & Conference Centre near OR Tambo.
Glenn says that the work done by Scharrer, covers not only the above-the-line advertising, logo designs and brand building, but also the staff incentives, annual reports, loyalty programmes, promotional advertising, indoor and outdoor signage, gifts and other collateral.
Scharrer Advertising has built a reputation for success in travel and tourism, having for many years been the ad agency for SAA City Centre, and built up the group of travel agents from a zero base to over 120 franchise agents over a three year period.